Journalist Yolandé Stander | Friday, 28 June 2019, 08:02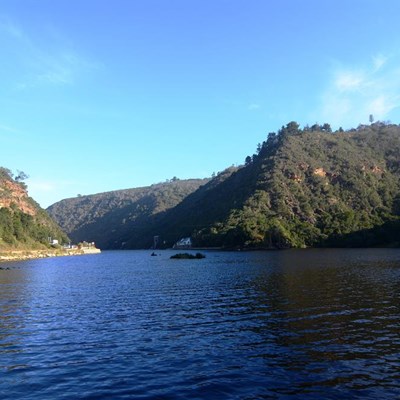 GARDEN ROUTE NEWS – In an effort to enhance the survival of the Southern Cape floristic footprint, two organisations have vowed to assist Garden Route landowners to clear ecological infrastructure like rivers and wetlands, of invasive alien plants.
The initiative is a collaborative effort between the Southern Cape Landowners Initiative (SCLI) and the Table Mountain Fund.
The project will be implemented over coming months and will focus on rivers, wetlands and seep lines. This endeavour is part of a three-year project by the two organisations.
The project, titled the SCLI Cape Floristic Corridor Revival and Training Programme, entails the establishment of a network of conservation corridors along selected river systems – the Groot Brak, Kaaimans, Touw, Knysna and Goukamma rivers. It is aimed at determining factors that inhibit corridor flow through an interactive land management framework. The SCLI's Cobus Meiring said it is vital to invest and protect or restore ecological infrastructure to ensure socio-ecological resilience.
Impact of drought and wildfires
He added the current drought and recent wildfires had had significant economic, social and environmental impacts and have focused regional attention on among others, ecological resilience, disaster and risk response.
"In many respects the 2017 Knysna fires served as a wake-up call to authorities in the Southern Cape and in the Garden Route, that we are moving towards a planning and coordinating scenario where the region can be better prepared for what lies ahead, instead of staggering from the one disaster to the next in dealing with the effects of climate change," Meiring said.
"Identifying invasive alien plants as the number one threat to our regional environment and natural infrastructure, and the work done by SCLI in assisting landowners and land managers in the Southern Cape to help them understand the environmental damage and down-stream problems caused by invasive alien plants, directly feed into the way we manage natural infrastructure in the Southern Cape."
"By investing in ecological infrastructure, we mean an investment in protecting ecosystems for the services they provide to us, such as reliable supplies of water and productive land."
Garden Route's unique biodiversity
He added the Garden Route was in many respects one of the most unique in Africa with strategic water source areas – with comparatively high rainfall figures – and the prevalence of biodiversity nowhere else to be found.
"These natural systems are the very fabric which makes the region beautiful, sustain urban and rural populations and enables the cultivation of agricultural produce."
He further explained ecological infrastructure is the natural counterpart of built infrastructure which is used, for example, to transport goods (a road) or supply water (a pipeline). Ecological infrastructure would include systems such as a mountain catchment in the Outeniqua Mountain, with high rainfall figures, supplying fresh water to a river, and eventually a dam where water is stored for a town."
According to Meiring the Western Cape department of environmental affairs and development planning appointed the Council for Scientific and Industrial Research (CSIR) in 2018 to undertake the Development of an Ecological Infrastructure Investment Framework (EIIF) and an Alien Invasive Species Strategy (AISS) for the province.
Invest in protecting environment
"Communities in the Garden Route should be investing in protecting or restoring ecological infrastructure to ensure socio-ecological resilience in the face of growing population pressure and projections of increasing temperatures, decreasing and more variable rainfall. The current drought and recent wildfires have had significant economic, social and environmental impacts, and have made people aware of some of the hazards they are exposed to, hazards which are highly likely to increase in the future."
'We bring you the latest Garden Route news'