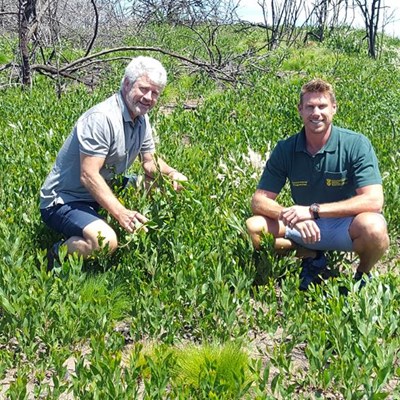 GARDEN ROUTE NEWS – It is no joke that if you are a landowner and have what is a being called a prolific growth of alien plants on your property after the fires, you are liable for getting rid of them.
Failing to do so could result in the visit of a Green Scorpion who is able to order you to do it and failing that you will be subject to "severe penalties", which can be financial in nature or even result in loss of property.
"The Green Scorpions will be closely monitoring landowners' efforts to comply with the relevant legislative frameworks," says Cobus Meiring of the Southern Cape Landowners Initiative (SCLI).
"The Department of Environmental Affairs (DEA: directorate biosecurity services) will be delegating personnel to the Knysna area to ensure that landowners comply with the legislation.
"The Green Scorpions (as they are officially known), are departmental (DEA) officers, mandated to visit landowners with invasive alien plant infestations, and to serve directives on noncompliant landowners," says Meiring.
"The ultimate objective is to ensure, as far as possible, that the area will not be subjected (again) to a fire as severe as the 2017 wildfire.
"Invasive alien plants, especially in the Rheenendal area, contributed to creating the immense heat that propelled the flames across the Knysna Estuary and into the town of Knysna and surrounds," explains Meiring.
He also warns, "Penalties imposed on non-compliant landowners follow a rigorous legal process, and can ultimately result in a financial penalty or, in extreme circumstances, even loss of property."
He says landowners in the Knysna burn scar are "overwhelmed by invasive alien plant regrowth".
SANParks employees clear what has now become a jungle of alien growth. Photo: Supplied
Invasive plants proliferating
"Recent community engagement and field verification processes conducted in the Knysna, Rheenendal and Plettenberg Bay areas are early indicators that rural properties affected by the severe 2017 fires are now subject to rigorous invasive alien plant regrowth.
"Although several landowners are doing what they can to save their land from becoming jungles of invasive alien plants, there are many areas where, already, the amount of work required to suppress and control regrowth will exceed available resources," says Meiring.
Several affected conservancies, private landowners, and commercial (land management) entities have already initiated efforts to suppress and control the aggressive bounce-back of invasive alien plants.
Although not unexpected, landowners in Brenton-on-Lake, Rheenendal, Featherbed, and Brenton-on-Sea were surprised to find their land, previously regarded as pristine (with only indigenous plants present), now completely overrun by black wattle, Port Jackson, rooikrans, and blackwood.
Absentee owners pose a risk
According to Meiring, absentee landowners, who own large properties in the Garden Route, pose a major headache to neighbouring landowners.
"Despite efforts to clear their own land, bordering unattended properties that become overrun by invasive alien plants, increasingly pose a severe fire risk and an endless source of invasive alien plant seed and spread."
Meiring, however, warns that there may be light at the end of the tunnel for concerned neighbours, as "all indications are that authorities intend to ensure that landowners comply with the relevant legislative platforms, such as the National Environmental Management: Biodiversity Act 10 of 2004 (Nemba) and the Conservation of Agricultural Resources Act 43 of 1983 (Cara)".
"According to authorities, landowners refusing to address the invasive alien regrowth situation will be served with directives by the Green Scorpions, which, if ignored, will lead to substantial penalties," says Meiring.
Alien growth 'shocking'
The Garden Route National Park manager Paddy Gordon calls the growth of alien plants "shocking".
"Immediately after the destructive fire in June 2017, the extent of the fire led to the forming of a multi-stakeholder agency (Garden Route Rebuild Initiative) to address the major threats anticipated after the fire."
One of these, he says, was the expectation of prolific regrowth of alien plants, particularly the Australian wattles whose seeds are stimulated by fire.
"Six months after the fire this is certainly the case, and the extent is indeed shocking," says Gordon.
He explains that, in many places, land that was covered with indigenous vegetation did not disclose its secret of a historic accumulation of alien seeds in the ground.
"The fire stimulated these seeds and is changing the landscape to the dismay of many landowners who had believed their properties were in 'good shape'.
A dense stand of Port Jackson (Acacia saligna) bordering the Westford Nature Reserve, along the Knysna River valley. Landowners, affected by the 2017 fires in the Garden Route were surprised to find their land completely overrun by invasive alien plants where previously only indigenous plant species were present. Photo: Supplied
"Some landowners might have done systematic alien clearing in the past, while others have failed or lacked the resources to do so. Nevertheless, the extent of the problem is indeed overwhelming."
Gordon continues, "As part of an international conservation priority, the combating of aliens in the GRNP has been undertaken by SANParks for decades.
"To achieve this, SANParks is a successful implementing agent of the DEA's Expanded Public Works Programmes, particularly the Working for Water programme.
"Tens of millions of rands are invested in the Garden Route each year for clearing of such aliens for biodiversity purposes, water release and job creation.
"In later years the reduction of fire risk had become a significant benefit of alien clearing as well."
Gordon assures locals, "SANParks in the Garden Route has been part of the Garden Route Rebuild Initiative from the start and will continue to do so.
"Although the GRNP will continue with the existing alien-clearing programmes, we welcome being part of a "helicopter view" of the broader landscape to determine priorities and strategies to address this threat."
The SCLI is a public platform for landowners and managers with an interest in the control and eradication of invasive alien plants. More info: www.scli.org.za
ARTICLE: ELAINE KING, KNYSNA-PLETT HERALD EDITOR