A tiny beetle and its deadly fungus is threatening South Africa's trees.
~~~~~~~~~~~~~~~
The following article appeared in today's edition of the KnysnaPlett Herald: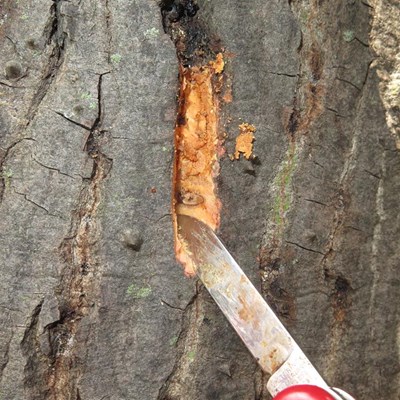 KNYSNA NEWS – It moves into your yard like an illegal squatter and builds its home. Then it forms an incestuous pit of reproduction and turns your backyard into a breeding colony… Soon your garden is littered with dead branches and dying trees. It is a variant of the ambrosia beetle and it is currently taking Knysna's trees by storm – a storm that will make you want to batten down the hatches…
The beetle, more commonly known as the polyphagous shothole borer originating from Asia, had initially spread to California and Israel before it was noted in South Africa in the early 2010s. According to local horticulturist Nanna Joubert, the variant found in Knysna is closely related to the euwallacea fornicatus* species complex.
Residents have been worried, some frustrated, by what they see as the municipality's inaction regarding these devourers of trees.
When the Knysna Municipality was recently confronted with information that a number of residents say the municipality is not doing enough – such as not burning all the infected trees and only pruning some – and are not felling all the infected trees completely as stated, the municipality said this was because the disease had not spread to all trees.
Furthermore it said that infected wood has been taken to a dump site, and for future purposes the plan is to burn the debris. "The project is ongoing subject to availability of budget."
First noticed in 2013
These beetles were noticed in Knysna back in 2013 by Clive Nuns, manager of Parks and Recreation at Knysna Municipality at the time. By 2014, about 35 trees, both large and small, were earmarked to be felled in the whole CBD as well as in a few other areas. This year the infestation has become a lot worse.
According to Dr Trudy Paap of the Forestry and Agricultural Biotechnology Institute (Fabi) in Pretoria, who visited Knysna in June and sampled trees in Pledge Nature Reserve and the CBD where these beetles were noticed, it would be tricky to give a simple answer to what Knysna's current situation is.
"At the moment we can't really predict how this beetle infestation will play out as we do not want to cause panic and also because we are not sure if every infected tree will be killed," she said this week.
George also heavily affected
The situation in George, however, appears to be more serious. "There are a lot of old oaks lining George's streets that are close to dead because of the beetle," Paap said, adding that the municipalities of George and Johannesburg are already facing removal of hundreds, potentially thousands of dead and dying street trees.
Other towns across South Africa also showing a sizable infestation besides Knysna, George and Johannesburg are Durban, Hartswater and Bloemfontein.
Click here for more images of infected trees
Paap said that it is the female of the species that causes the most harm. "A single female can establish a gallery and lay about 32 eggs at a time. Most will become female with just a few males. The males – who unlike the female cannot fly – will mate with any female, even its 'sisters'. He stays in one tree and continues to mate with incoming or newly born females. Females, once mated, will fly off, already fertilised, and take over another tree. It only takes one female…" Paap added.
An example of an infected tree. Photo: supplied
Indigenous trees not spared
The beetle has also now, according to Paap, widened its selection of hosts. "In some trees the beetles breed very well and in turn become a source of infestation. At first the beetle targeted invasive and exotic trees like the English oak, plane and butterfly trees, but it now targets indigenous trees as well," she said, adding that this is very worrying.
"We don't really know how damaging the fungus the beetles feed on and transport with them will be on all trees – each species might have differing resistance, but so far all common street trees are being affected," she said.
Getting rid of the infestation is currently a rather difficult task, said Paap, as there is yet no programme addressing the issue, and also no central disposal point one can take the infested trees to.
Awareness campaigns on the cards
But those involved are coming at this demonic little beetle from a number of angles. "There is no immediate disaster funding for this, but the department of forestry and fisheries (DAFF) will be instigating awareness campaigns as soon as possible. We need to inform the public that using infested wood, for example firewood, can be a huge drawback. The process of registering a number of chemicals used in California to get rid of the beetle has also started," Paap said.
"DAFF is taking it very seriously as some commercial crops might be threatened – we have already received confirmed reports of pecan nut trees being infected. We're also worried about macadamia and avocado trees, but luckily the beetle has not been seen in commercial farms yet," she said.
Furthermore, said Paap, Fabi is working closely with municipalities to address the issue, and are recommending that any wood be chipped and composted. "Chipping the wood and the heat created by composting should kill both the beetles and fungus," she said, adding that it was the fungus that causes most of the damage.
Cellphone app in the pipeline
The municipality's manager of environmental management Pamela Booth said the municipality, especially her department, is aware of the problem and in the process of developing a strategy to deal with the invasive beetle.
"The infestation started with the oak trees in the CBD, most of which have been felled. Residents can keep an eye on the local media and the municipal website for further information on the beetle. We also have a cellphone app we will be making available in the future where people will be able to identify infestations and report them," Booth added.
Knysna Municipality said that its parks department has been cutting down and, in some instances, pruning the oak trees in town in an effort to control the spread of the borer beetle disease.
'Trees to be cut down'
"This will also be done in other areas of Greater Knysna. The department is inspecting other trees/areas that might be affected as well and will thereafter proceed with the necessary procurement process of appointing a contractor to cut down the infected trees," the municipality added.
Report infected trees
All landscapers, garden services, contractors, nursery owners, gardeners and relevant municipal and government officials are asked to keep an eye out for possible infections and to report these, with photographs, to: diagnostic.clinic@fabi.up.ac.za.
Residents can report any trees that they suspect are infected to 044 302 6327.
* Euwallacea fornicatus is a species complex consisting of three cryptic species of ambrosia beetles. The larvae and adults feed on a symbiotic fungus carried in a specific structure called mycangium – a sort of pouch on either side of their mandibles. It is this fungus, according to Joubert, that feeds on the tree, in turn growing larger thus creating a crop of food for the beetle. It is this combination of the fungus and a large number of beetles that kill trees.