I'm going to add my penny's worth …. I believe the current infestation of Alien Invasive species is out of control. The areas affected are too vast, it is too costly for concerned  individuals to do regular follow ups and most property owners are reluctant to remove the bit of greenery that is on their barren plots regardless of the fact that these plants are declared invasives.
There are colonies of aggressive aliens establishing themselves where they never before occurred.  Madeira vine, Bugweed, all proclaimed Wattles, Pampas grass and many more species  are now seen growing along road verges and empty plots in Paradise.  What makes the situation worse is the fact that home owners that have lost their homes and  had their payouts are now taking NO responsibility for the land they own.
The Municipality  published a little leaflet citing the responsibility of landowners to clear their properties of alien invasive species, yet nothing has been done  by the Municipality  to eradicate these plants from road verges and open spaces which falls under their jurisdiction.
Dr Tony Rebello said last year that if the  invasive species can't be controlled,  the next fire will not be in a hundred's year time, but it can be as soon as twenty years from now!
~~~~~~~~~~~~~~~~~~~~~~~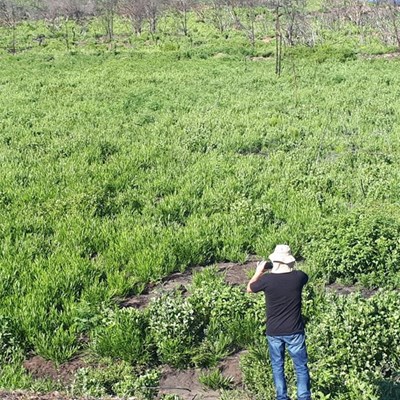 GARDEN ROUTE NEWS – "We have grave concerns about achieving environmental restoration goals in the Knysna burn scar without appropriate and dedicated funding," says Cobus Meiring of the Southern Cape Landowners Initiative (SCLI), based in George.
According to Meiring several high-level applications to national government (disaster management funds), are pending. However, almost a year later, no funds have, as yet, been released, and there is no indication from the authorities as to how much will be made available.
Established by Premier Helen Zille in 2017, following the severely destructive Knysna fires, the Garden Route Rebuild Initiative (or better known as the GRRI), is aimed at building a better Garden Route.
"In many respects, the fires led to initiatives aimed at creating a better environment for Knysna communities. However, there is much debate on the matter, and if the progress has been adding value," says Meiring.
The GRRI Environmental Work Stream, one of several aimed at restoring fire-related damage (including e.g. training, infrastructure development and social services), intends to host a seminar in June to not only commemorate the fires but more importantly, to reflect on the state of the environment.
We are not achieving environmental restoration goals in the Knysna burn scar
Following the Knysna fires, an immense amount of work was conducted to ensure that large-scale erosion was to be averted, and that remaining dead/ dry biomass is removed from the urban interface to ensure that the fire does not repeat itself.
Fortunately, no serious flooding followed the fires, and the environment proved a whole lot more resilient than expected, with no landslides reported, and small-scale soil and sand flows causing little or isolated damage in Brenton-on-Lake and Brenton-on-Sea.
As expected, invasive alien plants made an aggressive comeback. In some respects, landowners were/ are proactive in dealing with invasive alien plant regrowth. However, on many farms the scale of invasive alien bounce-back outflanked resources available to private landowners to deal with the matter effectively, or at all.
Landowners with hundreds of hectares exposed to Wattle, Rooikrans, Port Jackson and Blackwood regrowth simply cannot afford the labour to suppress the rate and scale of regrowth.
Even in a sponsored pilot project, providing herbicide (free of charge, and including training) to badly affected farmers, the result is not nearly what it should be.
Large tracts of land, overtaken by invasive alien plant regrowth will pose a much greater threat to recurring fires, loss of biodiversity and water security than even before the fire raged through the countryside.
"We can only hope that requests for funding, to national government, will result in significant environmental rehabilitation," says Meiring.
'We bring you the latest Garden Route, Hessequa, Karoo news'