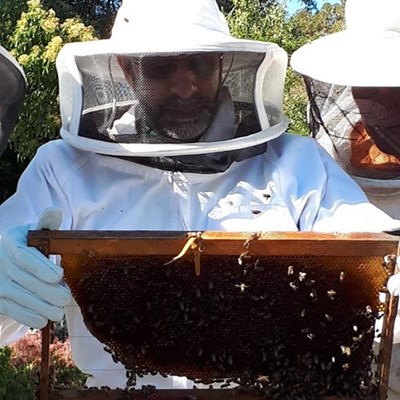 KNYSNA NEWS – "The circle of life" and the "the results of divine intervention" is how Owen Williams of Honeychild Honey describes what he calls the privilege to work with Gift of the Givers in response to the Knysna fires of 2017 – which devastated the Cape honeybee populations between Plettenberg Bay and Knysna.
Dr Imtiaz Sooliman, founder, director and chair of Gift of the Givers, was back in Knysna on Friday 6 July to attend the official opening of Hope for Honey's Info and Education Centre in Rheenendal – just over a year since the fires.
It was the culmination of a project spearheaded by Gift of the Givers through the experience and plan of action directed by Honeychild's Owen Williams, Meagan Vermaas and Grant Livesey, who were tasked to formulate a disaster response to the destruction of the Cape honeybee and assist them in repopulating.
In July last year, the fires destroyed hundreds of hives, and according to one scientist, more than 2.2-million bees died, says Williams.
Bees 'traumatised and hungry'
"The bees that survived were traumatised and hungry. They were in search of a hive and forage to survive. We only realised what we had to do following a chance meeting with Dr Imtiaz Sooliman, who overheard Grant speak about sugar. He came back to us and offered us resources, support, logistics, and all we had to do was come up with an action plan".
Backed by scientific data, three additional scientists and a pledge from Gift of the Givers, a plan was put in place and over the past year, major strides have been made in the world of the Cape honeybee.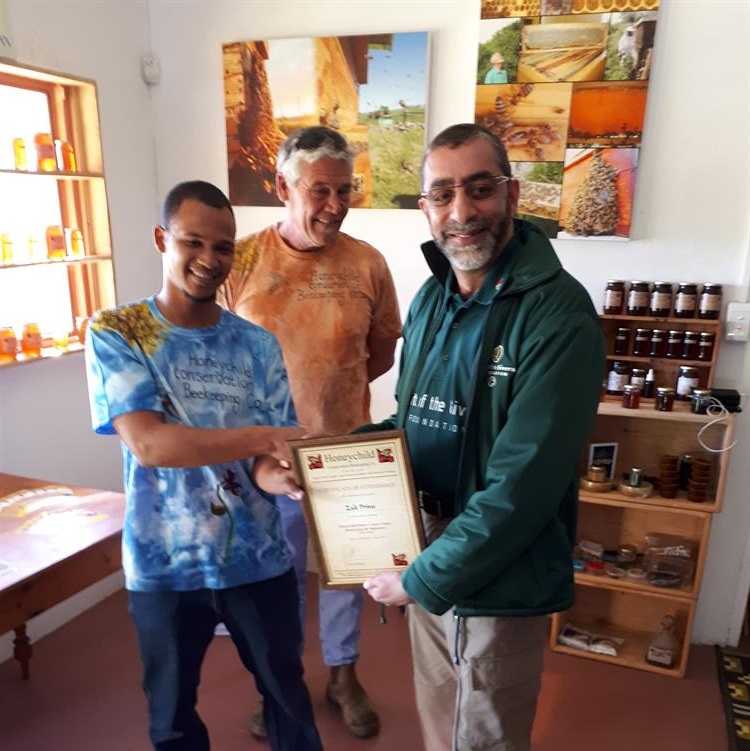 "The involvement of Gift of the Givers attracted other role players who all contributed in the distribution of feeders, packs, pollen and nectar substitutes and other vital supplies. People all between Plett, Elandskraal, Brenton and Knysna worked together like bees in a hive – it was amazing. Under the banner of Hope for the Honeybees, we assisted beekeepers all across the province following the drought. So it was not just a temporary project, but something sustainable that would help for decades to come and can be implemented almost anywhere in the world. In this regard, Dr Sooliman asked us to do something with this, and that's how we bore the idea of opening an information and education centre," says Williams.
Project attracts national award
He attributes everything to Gift of the Givers and says it is humbling to see the project getting nominated for a national award, such as the recent SA Bee Industry Organisation, which recognised Hope for Honeybees in a prestigious award.
"Dr Sooliman's vision inspired other people and it is through this that we've made such large strides. And as you speak to me today, a swarm of bees is pollinating a blueberry orchard, on a farm that was devastated by the fires. And this farm was rebuilt after the fires by Gift of the Givers, and those bees were rescued by Gift of the Givers. Now that's amazing, that's the circle of life."
Hope for Honey's Info and Education Centre is open to the public and they welcome school tours, tour groups and tourists to visit and learn the critical importance of bees and how precious they are, as well as learn about conservation of the Cape honeybee.
They are situated on the Rheenendal road and can be reached on honeychildhoney@gmail.com, or phone Owen Williams directly on 078 724 6425.
'We bring you the latest Knysna, Garden Route news'