Tuesday, 07 May 2019, 16:03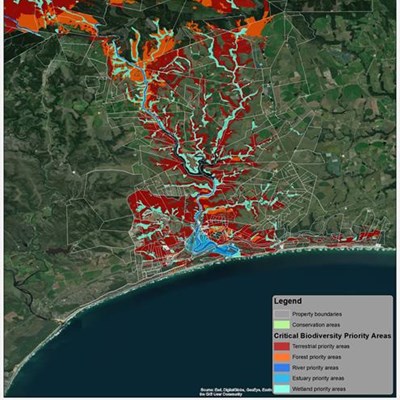 GARDEN ROUTE NEWS – "Land on the Garden Route is not exactly cheap and land available for the exclusive purpose of conservation is getting scarcer by the day as farmers maximise production on every available hectare, and developers and incoming new landowners expand their efforts into former wildland areas," says Cobus Meiring of the Southern Cape Landowners Initiative (SCLI).
The catastrophic fires during the past two years left regional Fire Protection Units and landowners in the rural/ urban interface with little choice but to reduce biomass levels in the landscape in an attempt to reduce fuel loads for wildfires and associated exposure to wildfire.
According to Meiring conservation bodies regard river systems in the Southern Cape as possibly the last resort for conservation of biodiversity in the region, but as things stand, not enough spatial data is available to provide land managers with sufficient levels of information required to plan and engage with individual landowners.
He explains: "Layers of spatial data include geographical information highlighting areas that are valuable from an indigenous biodiversity perspective, or from a water conservation perspective, areas that are badly affected by invasive alien plants, erosion or land degradation."
In an effort to get a better view of what the true biodiversity status of selected river systems in the Southern Cape is, and in an effort to develop conservation corridors, SCLI has engaged the services of spatial data specialists, and intends to focus on the possible conservation corridors that make up the Touw, Kaaimans, Great Brak, Goukamma and Knysna rivers.
"Once the spatial data sets for the selected river systems are ready, SCLI will make them available to landowners along those river corridors.
The data sets will allow landowners to get a better perspective of the conservation potential their land has, where the problem areas on their land are, and how to plan to rehabilitate their land for the purpose of conservation."
Landowners who are interested in the development of conservation corridors will be able to follow new developments on the Southern Cape Landowners Initiative (SCLI) website: http://www.scli.org.za
The Southern Cape Landowners Initiative (SCLI) is a public platform and think tank for landowners and land managers with an interest in invasive alien plant management, water stewardship and land management.
SCLI is supported by the Table Mountain Fund (TMF), a subsidiary of WWF SA. For more information on their work, visit http://www.scli.org.za